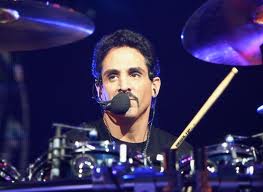 Deen Castronovo (born August 17, 1965) is an Italian American drummer who has played in various bands, including Cacophony, Bad English, Journey, The Enemy, Hardline, Planet Us, Social Distortion, and Black Sabbath bassist Geezer Butler's G/Z/R, as well as in backing bands for Ozzy Osbourne, Steve Vai, Paul Rodgers and Matthew Ward. He is the current drummer for the band Journey, performing on the albums Arrival, Generations, Revelation, and Eclipse, as well as providing lead vocals when performing live on such hits as "Mother, Father", "Still They Ride", and "Keep on Runnin'" and occasionally "Faithfully".
Discography
Edit
Ad blocker interference detected!
Wikia is a free-to-use site that makes money from advertising. We have a modified experience for viewers using ad blockers

Wikia is not accessible if you've made further modifications. Remove the custom ad blocker rule(s) and the page will load as expected.