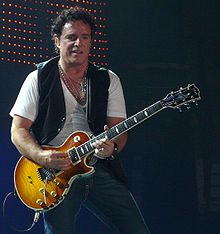 Neal Schon was born in Tinker Air Force Base near Oklahoma City, Oklahoma the son of Barbara and Matthew Schon His parents were musicians and his father was a Jazz saxophonist. Schon first picked up the guitar at the age of 5. A quick learner, he joined Santana as a teenage prodigy at the age of 15. He went to Aragon High School in San Mateo, California but dropped out (with his parents' blessing) before graduating. Schon had famously been asked by Eric Clapton to join Derek and the Dominos, but since Santana called him first, he decided to join Santana for the album Santana III. Schon also played in Azteca before moving on in 1973 to form Journey with former Santana keyboardist and vocalist Gregg Rolie, a group he continues to lead today.
Schon's guitar style has been described as soulful, taking inspiration from 1960s-era soul singers such as Aretha Franklin and Gladys Knight, and blending it with blues runs similar to B. B. King. He was influenced by guitarists such as Eric Clapton, Jimi Hendrix and Wes Montgomery.
In addition to his five solo albums and 14 studio albums with Journey, his work also includes: a pair of albums withkeyboardist Jan Hammer, two short-term collaborations with Sammy Hagar (HSAS and Planet Us) and Paul Rodgers of Bad Company, as well as stints with Bad English (a supergroup that featured Journey's Jonathan Cain and Deen Castronovo and Jonathan Cain's former Babys bandmates John Waite and Ricky Phillips) and Hardline (which also featured Deen Castronovo). Even as Journey's latest lineup plays to a still-faithful body of fans, Schon has immersed himself in side projects such as Piranha Blues (1999) and "Black Soup Cracker" a funk outfit that features former Prince associates Rosie Gaines and Michael Bland, and more recently Soul SirkUS with Jeff Scott Soto.
Schon can be heard on other albums including three tracks on Michael Bolton's The Hunger, with the Schon sound most recognizable on "(Sittin' On) The Dock of the Bay". He also joined Larry Graham to play in an all-star band for cult funk artist and ex-wife of Miles Davis, Betty Davis. In addition, Schon (along with then Journey manager Herbie Herbert) also contributed to Lenny White's 1977 album "Big City", specifically the instrumental jam "And we meet again".
Discography
Edit
With Santana
Edit
With Journey
Edit
With HSAS
Edit
With Bad English
Edit