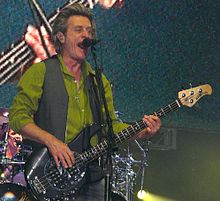 Ross Lamont Valory (born February 2, 1949 in San Francisco) is Journey's bass player. He and Neal Schon are the only original members of the band still performing with the group and aside from his termination from the group during the Raised on Radio album sessions (and subsequent tour) in 1986, Ross has played on all of Journey's albums. For Raised on Radio, he was replaced on bass in the studio by Bob Glaub on three songs, while the remaining songs were played by future American Idol judge Randy Jackson, who also played on the subsequent tour.
Valory grew up in Lafayette, CA and attended Acalanes High School.
One of the innovations that Valory uses (it is not known if he is the inventor) is to string a four-string bass with the bottom four strings of a 5-string set. Thus, instead of the usual E-A-D-G arrangement, his bass is strung as B-E-A-D. This adds the five string depth to the songs, while allowing the quick fingering of a four-string neck.
He also plays keyboards and guitar.
Ross Valory also played for Frumious Bandersnatch, The Vu, The Storm, and the Steve Miller Band.
Discography
Edit