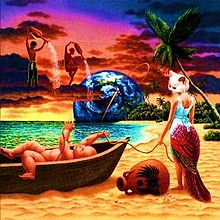 Trial By Fire
is Journey's tenth studio album and is the final album to include singer Steve Perry. It was released after a ten year break and is currently the longest time the band has gone between albums. It was preceded by
Raised On Radio
and followed by
Arrival
.
Track Listing
Edit
"Message of Love"
"One More"
"When You Love a Woman"
"If He Should Break Your Heart"
"Forever in Blue"
"Castles Burning"
"Don't Be Down on Me Baby"
"Still She Cries"
"Colors of the Spirit"
"When I Think of You"
"Easy to Fall"
"Can't Tame the Lion"
"It's Just the Rain"
"Trial By Fire"
"Baby I'm Leaving You"
"I Can See It in Your Eyes" (Japanese-only bonus track on the original CD release, later added to the 2006 CD reissue)
Personnel
Edit
Ad blocker interference detected!
Wikia is a free-to-use site that makes money from advertising. We have a modified experience for viewers using ad blockers

Wikia is not accessible if you've made further modifications. Remove the custom ad blocker rule(s) and the page will load as expected.